Employer branding: Attract and retain the right talents!
For several years, there has been a 'war for talents', which is constantly intensifying. This skills shortage causes growing competition between different employers. Consequently, it is even more important for companies to differentiate themselves positively from the competition and create an attractive image for prospective employees. The aim is to win over suitable talents with the highest fit and integrate them successfully into the company. After all, the employees are the 'engine' for growth and success. At the same time they also significantly shape the brand perception of the company's target groups in their role as brand designers and ambassadors.
A strong employer brand is essential for the war of talents in order to win over exactly those talented and suitable employees and retain them in the long-term.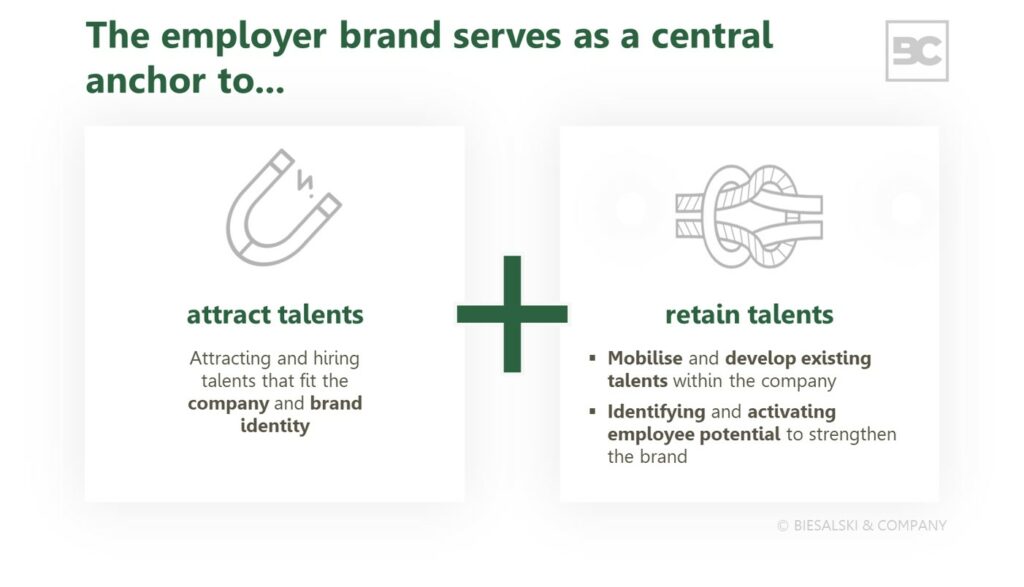 A good employer brand positioning is characterised by relevance, credibility and selectivity. It simplifies a consistent market appearance and creates internal and external identity – for future employees and applicants as well as existing employees.
A strong employer brand requires compliance to brand promises and creation of a consistent brand experience across all relevant touchpoints. This applies not only to communication, but also to behaviour, processes and systems. A consistent implementation leads to success and enables you to measure your achievements.
For the employer branding, the crucial target group is consistently placed at the center of action: Your (prospective) employees. A survey helps to identify their central needs as well as the brand contents and touchpoints that are relevant for their decision for or against your company as a future employer. Taking into account your employee demand planning and corporate strategy, we derive an employer branding strategy for your company. This offers you orientation and demonstrates the aspired development of your employer brand: Besides employer brand vision and mission, it also includes concrete strategic and operational goals that have to be met. Based on this – and always in line with your corporate brand – the employer brand positioning is defined. As with any other brand positioning, we always adhere to the three quality criteria relevance, differentiation and credibility.
So far, the employer brand positioning only exists on paper. To achieve long-term success, the next step is necessary: the bridge to implementation is formed by identifying the moments of truth – the most important touchpoints along the employee journey. For these crucial moments we do not only set up general communication and behavioural guidelines. The aspiration is to develop specific implementation measures for a brand supporting behaviour as well as consistent communication, processes and systems.
The employer branding control system gives you a tool that measures the success of implementation using precise KPIs (e.g. number of incoming applications, recruitment rate, fluctuation rate, reputation, figures for the touchpoint perception).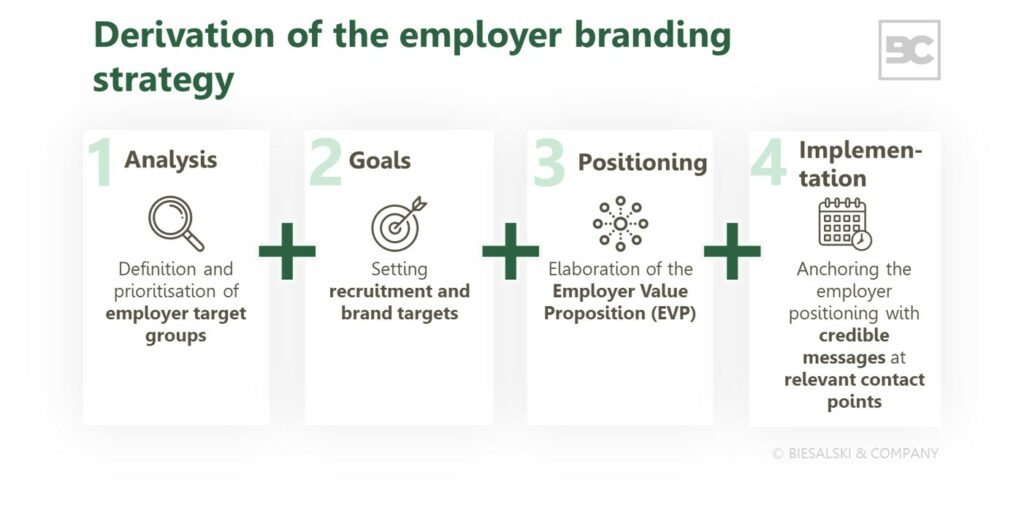 The employer branding control system creates transparency regarding the success of employer branding or recruiting and enables you to manage your employer brand in a targeted way. Addressing the applicants with relevant, credible and differentiating content increases the efficiency of the applicant communication.
The intended measures to implement or convey the employer brand positioning do not only comprise the brand communication, but also the behaviour of employees as well as the organisational processes and systems. Overall, it guarantees a consistent brand experience across all relevant touchpoints and raises your employer reputation.
Together with smooth and efficiently working HR or recruiting processes, this in turn simplifies winning over qualified employees that fit with the brand/company and at the same time has a positive effect on the fluctuation rate. The bond of existing talents to your company can be strengthened. This way you can satisfy your long-term demand for employees and simultaneously save on costs.
A strong employer brand reinforces your position in the competitive environment – and puts you in an excellent position during the 'war for talents'.