Our brand consulting competences for your entrepreneurial success with the brand!
BIESALSKI & COMPANY has its origins in monetary brand valuation. Since our start of brand consulting in 2010, we have valued more than 800 brands on behalf of our clients. In the meantime, a high relevance is also attributed to this topic in business circles. The reason for this lies in the numerous financial optimisation and success potentials that monetary brand value offers. Even in times of crisis, this newly gained financial strength can mean a valuable advantage for many companies in the highly competitive environment.
Our range of expertise has grown steadily with each business year. Today, we can proudly claim that we accompany our clients with a comprehensive and interdisciplinary change approach, which, guided by the brand, includes the entire organisation. Basically, a transformation process helps to develop positive changes in all employees of a company – on the attitudinal, behavioural and organisational level. This sets the course for a successful future in a dynamic market environment. For long-term, successful implementation, it is important that a change process goes beyond mere communication and is understood across departments.
The conviction of our brand consulting
Brands are a central driver of success and therefore a substantial part of the shareholder value.
In this context the brand is frequently discussed as a factor for value creation – but surprisingly it is barely used in a value-oriented manner or measured monetarily.
As a management consultancy for brands we have stepped up with BIESALSKI & COMPANY to change this!
Driven by our mission ›Turning Brands into Value‹ we achieve strategic superiority, competitive advantage and proof of the brand's value creation to strengthen our clients' brand earning power:
Strategic superiority means to shape the success of tomorrow and today in a sovereign manner. In doing so, we see the brand as a 'customer orientation program' to increase competitiveness and profitability. An effective brand architecture combined with an identity building and differentiating positioning defines a clear course, which is backed up with measurable goals. This is helpful for both approaching customers as well as for acquiring and retaining suitable employees.
The realisation of competitive advantages demands 'the courage to embrace change'. Managing change with the brand aims at strengthening the customer loyalty, customer acquisition and price premium. How? Through consistent touchpoint experiences that are achieved through effective communication and behaviour of all employees that honours the brand promise. A brand claim that has been defined collectively is most suitable to turn employees into 'brand ambassadors'.
A valid proof of the brand's value creation supports the brand and marketing in order to reach a position of strength. The hereto related appreciation is the premise for establishing a 'value-oriented brand management' in the company. Furthermore, a solid monetary brand valuation helps to detect the 'hidden reserves' of the brand, to lift the value added potential and to capitalise the brand as a financial asset. As a consequence the brand, as a quantifiable factor of success and security for investors, moves into the centre of entrepreneurial action.
To put it in a nutshell: We combine the emotional world of brands with substantial facts. With customer orientation and expertise we develop future-oriented solutions and put them into practice – this way we create an evident added value for our customers.
Increasing your company's success with the brand is the ultimate goal of our brand consulting. Step by step, we focus our attention on the following milestones: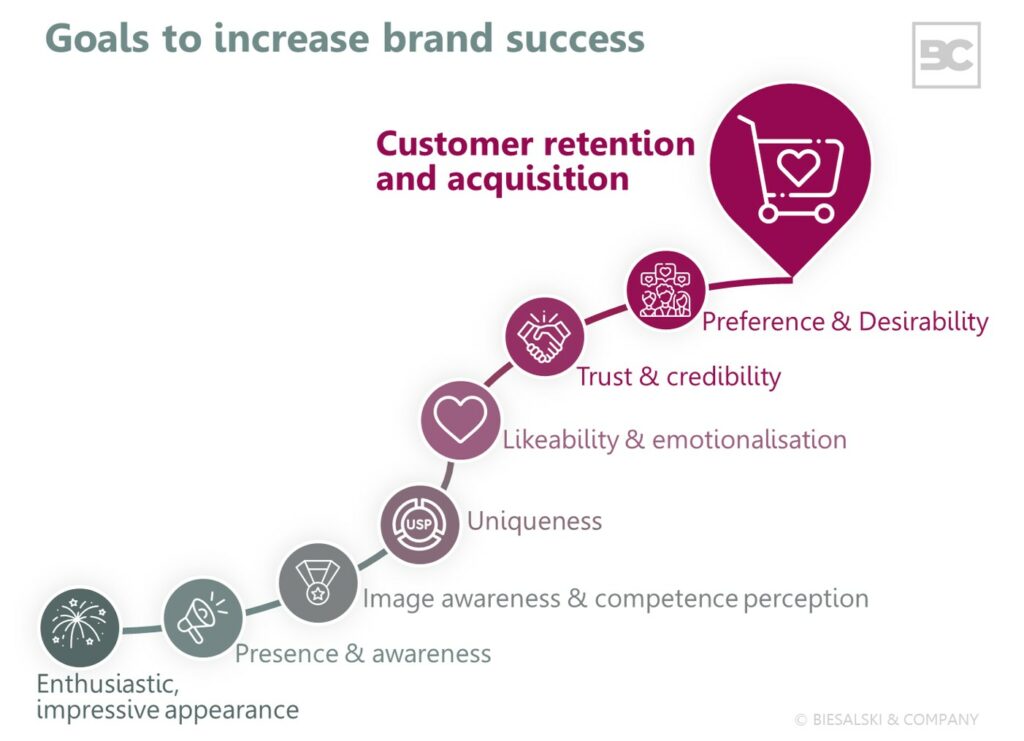 Why the brand is a counselling-relevant issue
With an average share of almost 50 per cent of the company value, the brand is one of the essential assets of companies and thus highly relevant to success from a business perspective. At the same time, the development and management of brands requires specific competences and experience, both selectively and in phases, which many companies do not find worthwhile to keep permanently within their own organisation. Against this background, the involvement of external consultants can be a sensible solution in terms of competence and cost-effectiveness.
Would you like a consultation without obligation to discuss your concerns? We are happy to be at your disposal for a personal exchange at any time.